Dog Park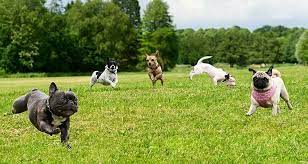 The Birth of A Dog Park
The City of Cascade is passionate about its dogs but has not yet had enough funds to build a dedicated dog park. As a part of a community visioning process called, Heart and Soul, participants identified that a dog park is an amenity wanted and needed in Cascade. Therefore, a Dog Park Planning Committee was formed which is hard at work establishing the needs, budget and plan for the park. The future site will be owned by the City. If we are retain enough funds, future operations and maintenance will be covered by the City, which will assure continuous success of the facility. We believe there are numerous benefits to the community if a dog park were created. First is a healthy, safe place for our dogs and their humans to play, exercise and socialize. Second, we want to be a walkable and dog friendly community. Third, we want to assure our dogs get plenty of exercise which can in turn reduce behavior issues. Finally, because we are a small, rural community we are at least 30 minutes away from other dog parks. This distance does not allow dog owners a convenient opportunity to exercise their dogs at a dedicated park.
Grant Applied For
The City Council has allocated funds toward a dog park but it is not enough to fund the entire project alone. On June 3, 2022 the City has applied for a Rural Enrichment grant from the state of Iowa for $20,000 which would be critical to making this park a reality in Cascade. We will hear October 15, 2023 if Cascade was awarded the grant. If we are selected we would begin construction immediately in the fall.